Artist info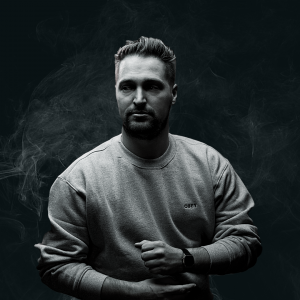 Name(s)
Herman-Jan Wildervank
From
Leeuwarden, The Netherlands
Labels
Epic247 Recordings
Armada Music
Ministry Of Sound
Black Hole Recordings
Perfecto Recordings
Genre
Progressive House,
Trance,
Melodic Techno,
Deep House,
Bio of: Kay Wilder
Kay Wilder and WLDR. are the monikers of label honcho Herman-Jan Wildervank. Production-wise dropping breakthrough trance productions as kay Wilder, while he continues to deliver his smashing crossover sound in the booth, where  influences of Progressive, Electro, Trance and Dance Music seem to be in a perfect cohesion to lift up any venue or festival.  With an easily distinguishable style that blends deep house, techno and progressive in an percussive afro blanket, WLDR. has truly earned his name. With WLDR. being the more experimental moniker of Herman-Jan Wildervank. With an easily distinguishable style that blends deep house, techno and progressive in an percussive afro blanket, WLDR. has truly set a name in Dutch techno nightlife.
This statement is underlined by the support he receives from his followers, DJ's , labels and events across the globe. Herman-Jan played major festivals in Holland such as A State Of Trance, Neonsplash and Dancetour, and was the first DJ in the world to perform a three hour set in the Afghan desert. Add to this achievement invitations by trendsetting artists such as Junkie XL and Armin van Buuren to  support their events, he steadily writes his mark on the scene. Kay Wilder was voted #94 DJ in the world according to the voters of the Trance Podium Global DJ Poll Top 100 .

Hailing from the north of the Netherlands, it is no surprise so see WLDR. regularly popping up on line-ups in cities like Groningen, Leeuwarden and Sneek. Here he plays the stronghold venues of the underground, like Subsonic, Hemingway, Simplon, Het Bolwerk and Neushoorn. The Netherlands, however, has never been a border for him, as he has been continuously seeking new opportunities to hit global destinations. His musical journey has lead WLDR. from Bruxelles, through the Zillertal in Austria, all the way to Prague. International touring has carried the exquisite style of WLDR. to audiences and clubs around the world that, in return, have inspired and shaped his sound.
With his WLDR. project Herman-Jan has played on radio shows such as the After Midnight and The Boom Room on SLAM!. With his own event WILDERNIS Herman-Jan created a highly unique and succesfull club concept.  True the years he shared the stage with artists such as Joris Voorn, Joachim Pastor, Joris Delacroix, Armin van Buuren, Eelke Kleijn, Solee and Junkie XL. His own musical background (Herman plays the trumpet, bass-guitar and drums) has undoubtedly influenced his style and is reflected in the authentic Kay Wilder and WLDR. vibes.
Production-wise, WLDR's style is best described as 'out of the ordinary', as it intertwines different genres from the melodic progressive with afro/percussive influences; always trieing to evoke his signature 'lost in the moment' feeling while on stage.
His love for new and bold creative undertakings has led to the genesis of his own event concept, Wildernis, which was born out of the ambition to fuse new talents with renowned names of the electronic scene, inspiring fresh line-ups and melodic journeys. This goal has brought Wildernis not only to Leeuwarden, the town in which it originates, but also to major techno cities such as Groningen, Prague, Zlin and Gerlos. WLDR. has also collaborated with festivals such as Nazomeren in Groningen, Brak in Het Park in Leeuwarden and Promised Land, where he hosted his own stages.
In addition to his artist projects, Herman-Jan Wildervank runs his own artist agency, Epic247, a boutique full service artist agency providing management, career strategy, publishing, marketing, bookings, events and record label. Epic247 has been a tool for Herman-Jan to establish himself as a visionary for talents in the industry, who he guides and mentors in order for them to be able to find and follow their path in the electronic music industry.